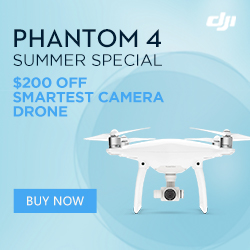 We offer our tips and insights on your choices from large online retailers, big box stores, manufacturers, specialty retailers, hobby stores and drone specialists.
We even love the 'basic'  Phantom 3 standard, and here are our photos and videos we took with it.
PS: DJI Catalog & Videos
Drone Specialists
For the ultimate in specialization, retailers like Innovative UAS and Urban Drones should have the best well informed sales, support and industry knowledge. As drone specialists, they will give you a broader viewpoint of all the various drone products available.
Innovative UAS also carries a complete line of quality drone brands like Yuneec, DJI, 3D Robotics as well as the all important Service, Repair, Installation and Custom Builds.
Anyone living in Arizona also has the opportunity to get drone services including aerial cinematography, real estate promotional videos, live event broadcast, inspection, land survey, 3D mapping, agriculture mapping, security and surveillance from Innovative UAS and their affiliates.
In additions to the well known DJI and Yuneec drones, Urban Drones also have splash waterproof drones. Plus, besides loads of new drones, they may even have an open box special on just the drone you have been looking for!
They also hold a monthly contest where you may also win some free drone gear!
Specialty Retailers
Well established specialty retailers that have been selling electronics, toys, TV, computers and cameras will also sell drones consistent with national retailer prices. Some online and local stores may or not have some great expertise and insight on drones, so it helps to look around.
Competition, sales specials and closeouts for new products all keep prices in flux and reasonable!
Another top specialized retailer is Adorma which has had a NY store for 35 years. They carry drones like Yuneec, DJI and many others in addition to their extensive line of action cameras, cameras, lenses, pro video, pro audio, studio & lighting, tripods, bags & cases, computers, tv & entertainment, scopes & optics as well as printers & inks.
Their online presence is also extremely extensive, professional and very competitive with prices comparable to other national retailers. In addition to shopping for new drones, you might even be able to buy a used one or sell your own 'gently used one.
DJI – Phantom 3 Professional, Phantom 3 4K, Phantom 3 2.7K, Phantom 3 Standard
Hobby Stores
This is where all the fun of drones started. Hobby shops have have selling remote controlled toys practically since the invention of the battery. They have a well established history of dealing with enthusiasts and nitpickers of all kinds.
One excellent store, HobbyTron, has very competitive prices for the well known brands and top products including DJI's Inspire 1 and Phantom 3 Advanced / Standard etc. as well as fun specials like a rc drone car.
In addition to their large selection of drones and parts, you can even explore bulk purchases at wholesale prices if you desire to start your own drone side business.
At Hobby Wow you can also find DJI, Walkera, Syma, WLtoys, Cheerson plus dedicated pages for DJI parts, Syma parts, Walkera parts, Hubsan parts, WLtoys parts and others.
As the passion and excitement for drone flying grows, you will see a lot of stores, both big & small add these products to their existing product lines. In the search for deals, parts and more fun you can also find a lot of great options at stores like Deal Extreme, TVC-Mall, Tom Tom Technology and others.


As the largest online retailer, Amazon sells practically every imaginable product in the world. They also attract thousands of companies that will fill product orders for them. In addition, you can read the most complete product reviews from a personal and commercial perspective.
I may often deride Walmart for it's down to basics look and feel, buy they are doing a remarkable job in upgrading their online presence to rival their real world retail foot print all over the globe. Combining the best of both worlds, you can get decent prices and selections. You might even be able to have it shipped for free or pick it up at your local store for free.
Phantom 3 Professional Phantom 3 Advanced Phantom 3 4K Phantom 3 StandardIt is not likely that the local store will have many, if any, drones already in stock. But if you are ordering online, what difference does it make to you which one ships it to you. If you can pick it up from the local store, you can also bring it back for a refund if you have an issue with it.
If I am expecting a refund from a return, I'd prefer to deal face to face with a person and get an immediate credit. In addition to the uncertainty factor, mailing takes time and money plus may involve a delay with delivery, receipt and credit.
Manufacturers
If you really want the latest model, instead of one that may have been sitting in someone warehouse, to order direct from the manufacturer.
Sometimes they are also the first or the very last to reduce prices. When new products are released and even announced, prices will be in a state of flux, so this is very special time where the previously perceived rules mat not apply.
My first 'real' drone was ordered from DJI. I ordered on Monday and received it on Friday.
Phantom 4

 – 

Obstacle avoidance, track subjects, tap to fly, smart return, 44 mgh, optimized visual positioning and extended 28 minutes of flight time as well as 

4K video camera & 12 megapixel photos with 3.1 mile range (Current price $1,359 )

Phantom 3 Professional

 – 4K video camera & 12 megapixel photos with 3.1 mile range ($999 current price, normal price $1,259 )

Phantom 3 4K

 – 4K video camera & 12 megapixel photos with 3/4 mile range ($799 current price, reg price $999 )

Phantom 3 Advanced

 – 2.7K video camera & 12 megapixel photos with 3.1 mile range ($799 current price, reg price $999 )

Phantom 3 Standard

 – 2.7K video camera & 12 megapixel photos with .62 mile range ($499 current price, reg price $799 ) 
The advanced range of the P3 Pro & P3 Advanced is a result of the lightbridge control system which the other drones (including yuneec) do not have.